The great kick-off
Giving watchmaking a go at the A. Lange & Sohne booth

MTM at Hugo Boss

Hugo Boss' booth

Classic and vintage cars on display
After three full days of setup, the 2017 outing of Robb Report Singapore's Car of the Year kicked off with much fanfare this morning. Complemented by a host of luxury lifestyle brands including A. Lange & Soehne and Hugo Boss, along with vaunted car marques Aston Martin, BMW ALPINA, Bentley, Lamborghini, Land Rover, Maserati and Range Rover, Robb Report Singapore's Car of the Year hosted exclusive guests on test drives that stretched from Marina Bay Sands, down along the East Coast Parkway and back again.
Bentley Bentayga V8 Diesel

Pak Didi Kurniwan
"It's a good sleeper car," shared Pak Didi Kurniawan, who enjoyed the privilege of test-driving the Bentley Bentayga V8 Diesel first when Car of the Year 2017 was flagged off this morning. "It's big but it's nonetheless extremely powerful. The Bentayga has a lot of torque, which you can feel during its pick-up." Kurniawan divulged that he has also driven other SUVs like the Porsche Cayenne and Range Rover before. "I didn't get to take the Bentayga off road, but I won't be surprised if it performs as well as any other four-wheel-drive SUV when taken off the tarmac."
Aston Martin DB11

Lance Tay

Guests mingling prior to the drives
Lance Tay too was very pleased with his Bentayga experience. "I'm normally not a fan of SUVs, but the Bentayga pleasantly surprised me. "It's a smooth ride, it's responsive and practical," he opined. "You can even bring the last row of seats up when fetching more passengers." Tay also expressed his satisfaction with the Aston Martin DB11, whose appearance he commended as "outstanding". "It looks great from the outside and when you get in, its interior too is very modern, from the leather to the dashboard," said Tay.
Lamborghini Huracan LP610-4 Spyder

Terence Koh
Terence Koh, who used to drive a Lamborghini Gallardo, revealed that he thoroughly enjoyed test-driving the Lamborghini Huracan. "The Huracan is so much better and can almost be an everyday car. The Gallardo is more of a weekend car – its gear shifts can be very jerky," Koh remarked. "The Huracan was great in every aspect, from handling to the overall feel of the drive. It has a very smooth gearbox." Koh also noted that Lamborghini had improved the turning circle of its cars very much with the Huracan, while recounting that its predecessor the Gallardo had a poor turning circle. "The Huracan's steering is very light though; I prefer cars with heavy steering."
This car stole the show without a doubt

Jonathan Yong
His friend Jonathan Yong took the Huracan out for a spin too and observed that it brandished a very heavy but very comfortable interior. "I enjoyed the sound that its aftermarket upgraded exhaust makes. It's extremely stable and has good handling," disclosed Yong, who was test-driving a Lamborghini for the first time. "I got to speed up, but was later caught in traffic. I got to enjoy the acceleration and power of the car again when we reached the Benjamin Sheares Bridge."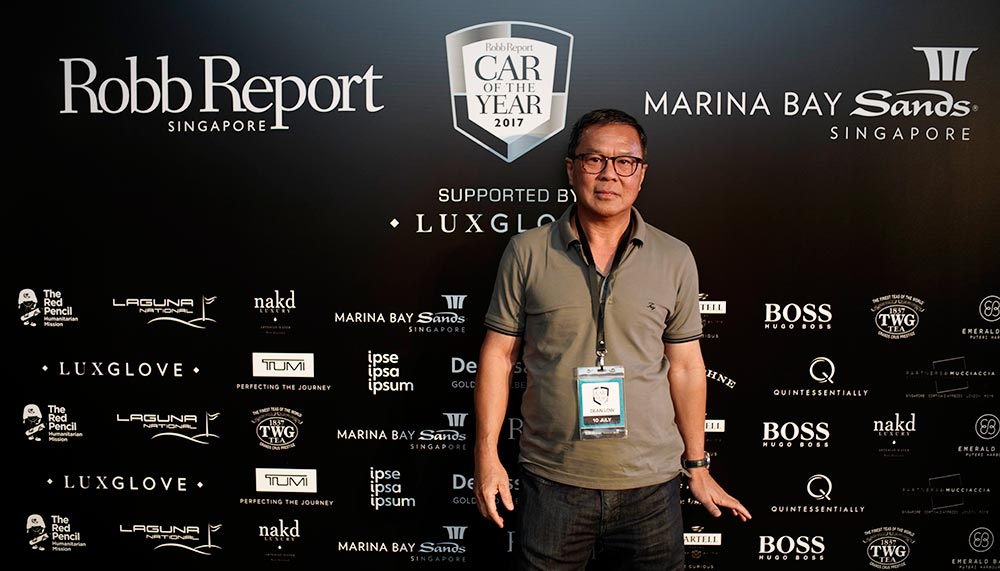 Dean Low did not enjoy the Huracan's roaring engine as much. "If I could be frank about it, was too loud for my liking," the owner of a Porsche divulged. "Its acceleration is not as powerful as a Porsche's, but its overall handling is good. The technology that goes into a Huracan is very impressive nevertheless, and I can't dispute that."
For more up-to-the-minute reports and behind-the-scenes action, head to our Instagram!
---
Popular Posts